HUMAN RESILIENCE:
BY DESIGN
—
Allow us to partner with you, to advise you on how to design your curriculum and schedules, with an eye on the health of your teachers/trainers.
Our visual identity reflects a plantcell, life. To us, the heart of human resilience.
Keynote 'Technical and Human Resilience as two sides of the same coin' by Tikvah Breimer (MSc MEd MSc), in the
Conference on the Future of Europe
, Feb 25, 2022. Find the
full transcript
.
Are you curious for more? Would you like to get in touch? Feel free to contact our lead directly for any questions or inquiries you may have.
tikvah@studioblended=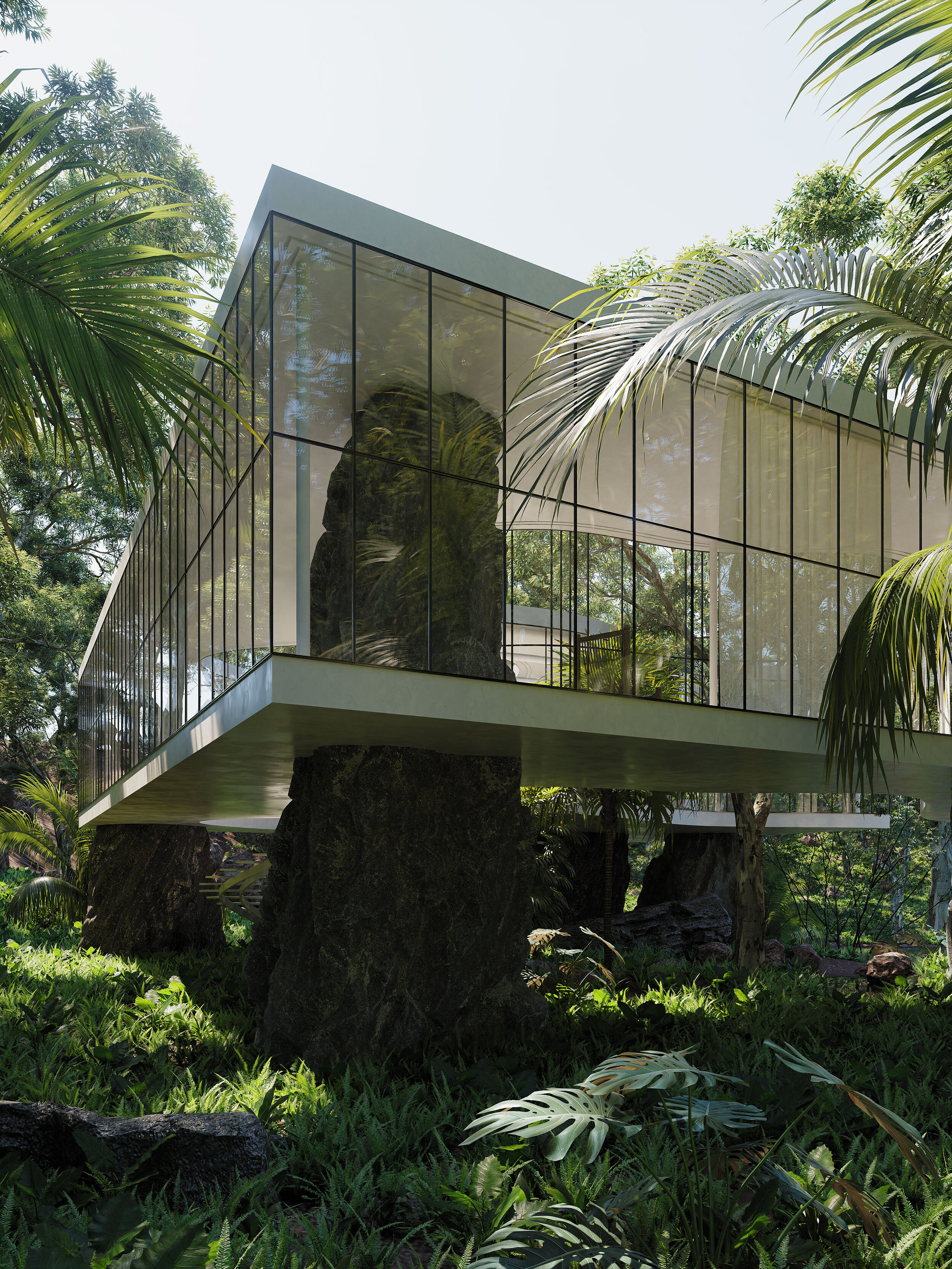 A tribute to the Italian/Brazilian architect Lina Bo Bardi's glass house, Casa Atibaia, Sao Paulo Brazil
Photo: with permission, Ni.acki/Nicholas Préaud
Are you struggling with... ?

-... ad hoc, last moment curriculum design internally, to match expectations marketed externally?
-... a focus on student/trainee numbers and scaling, fueled by the potential of technology and growth ambitions?
- ... current workload and schedules that lead to teacher/trainer suffering, fall out, and issues with retention of qualified staff due to (quiet) quitting?

Does it make sense?

Perhaps surprising to you: a focus on teacher wellbeing can be a huge untapped source to you - and you can
design
for it, it is not vague. It can help you distinguish between the simplicity of
good
education, and the 'extra's'. Such a healthy focus can inform decision making on new educational and technological trends. A focus on the human resilience of your teaching staff, can lead to a
concrete strategic
approach to your curricula, and translate directly into workable schedules.
Curriculum in its Latin origin, literally means, the course to be run, the learning journey to be taken, for a learner. To us,
technical
and human resilience of the curriculum, are two sides of the same coin [
keynote
]. One cannot do without the other.
Are you aware that:
- You can ensure teaching quality keeps pace with the same degrees you marketed. You can ensure that demands and conditions that teachers/trainers encounter at work, match their capacity to handle them, so that instead of exhausted, cynical and losing confidence in their capacity to perform - their work enriches and enlivens them.
- You can effectively lead multigenerational teams, to envision together, be in step with each other, the team - even with new trends and approaches following each other quickly - such as 'blended','.
- You can ensure that teachers are not only positively challenged in their resilience temporarily, in the face of crisis, such as navigating going in and out of online teaching, but that their flexibility and endurance is here to stay. Even when repeatedly tested by a polycrisis and permacrisis (see newsflash on the homepage).

Listen to the 15 min. keynote by Tikvah Breimer during our event in the conference on the Future of Europe, February 25, 2022. Here, Tikvah Breimer explains how technical and human resilience are intertwided; two sides of the same coin. Photo: Tikvah Breimer broadcasting during lockdowns.
Audio equipment and production by Paolo Destilo.


Prefer to read? Transcript

Our advice and partnering with you

What you need, is to equip your coordinators in how to design curricula with the human resilience of themselves and their own teachers/trainers in mind.
When education is decided upon and designed in one place, and executed elsewhere - the ones who authorize it, have no idea what is realistic, what is authentic to its teachers, who must further design, develop and deliver it.
That is why human resilience is actually an opportunity for you, to be in step with your teachers/trainers.
What is more: there are actually solid pedagogical reasons, to design a curriculum around human resilience, also for the students. One example is when it comes to the leadership dimension of teacher presence and absence (!) in effective learning. One of our trained professors called this her 'revolution' [see quote below]. Another example, is in avoiding overload of the curriculum for learner's brains, by doing justice to teachers' expertise and dosage what goes into the curriculum, in order to teach it
well
(see also under
technical resilience
).
We partner with you in curriculum design, and together take a step back, to look at the long run.
Typically, educational advisors, will design a curriculum for you, centered on the learner, the student. A logical re-bound from an era in which what teachers wanted to teach took central stage. But we go over and beyond: it is time, to take as a departing point for educational design, the actual well-being, the retention and quality of life of your teaching/training staff. You can
design
for that. And, when always designed with teaching effectiveness in mind, such as proven by neuroscience (see our
StudiOpedia
), a humanly resilient curriculum design, will in turn also greatly affect learner performance. Human resilience by design makes us unique; read on, if you're curious - or go directly to
what our clients say about us
.


Our approach for human resilience by design

Human resilience, takes the human perspective of the teacher - and integrates that into the curriculum, by design.
Job satisfaction relates to the ability to be authentic to a teachers' (health) needs, their need for autonomy, their intrinsic desire for mastery, and their need for purpose.
In fact, many a teacher/trainer will tell you: show me your curriculum design and schedules, and I will tell you your values for human resilience of your teaching staff.


Why we are unique

We excel at this dimension of human resilience of your curriculum, and you won't easily find such alongside advice elsewhere - so, why not make use of it? It requires an upfront investment now, but it easily pays you back even in the short term, but equally in the time horizon of a decade.
You will be surprised how much quality is gained in teaching effectiveness, by doing that. And with that, in student performance.
Find below one of the testimonials by a professor and course coordinator.


Our design studio

Human resilience is part of our design studio with clients and it comes last. The process is quite iterative, exactly because the human resilience lens may lead to required redesign, until a realistic curriculum design is there for the teaching staff.
Our fresh and innovative approach to curriculum design, makes a healthy value system around human resilience
concrete
, by translating it into a bespoke design of 5
visible and tangible
outputs:
1. A prototype schedule of the
pedagogically
required presence and absence of teaching staff during delivery (also online)
2. Identification of at least one minimum timeslot a week, for autonomy, mastery and purpose for a teacher
3. Design of impactful communication (formats) around feedback and (formative) assessment moments. Clear guide on how to communicate this to students
4. A technology protocol and communication etiquette for teaching delivery
5. A strategic plan for piloting and consolidating the essentially required material (i.e. what to develop first, what can come in year 2 etc).
You can expect at least the following steps:
1. Scope what the current envisioned design means, in terms of time investment of the coordinating and facilitating staff
2. Where relevant, integrate with the personal nature and content passion of the coordinator, urgent health needs in a schedule
3. Alignment with existing practice in communication
4. Alignment with existing use of technology and communication practices
5. Estimate the development time needed for the unique course's material, spread over 3 years.
The timeline depends on the overall work done with you, as a client. Typically, we take one season (spring, summer, autumn, winter) as a point of departure and a healthy time frame for re-design. Be mindful, that human and technical resilience are two sides of the same coin, and are coupled with the design challenge into a modality such as 'blended' or/and 'bichronous', and that human resilience comes as the last iterative design step.
Curios? Feel free to contact our senior advisor and teacher trainer directly:
tikvah@studioblended.com
"During the pandemic, we had to learn how to use new pedagogical tools to work remotely away from the students. This new way of working seemed full of infinite alternatives and I felt too overwhelmed to look into it. What makes the most sense for my practice? How can I find time to learn new techniques given I already have an overloaded schedule? It is in this aspect that Tikvah's advise and training was so effective for me. In my case, it felt like a revolution.

I never even knew that I needed advise and training on curriculum design. And now that I have had it with StudioBlended, I cannot believe just how much it changed my life - the technique, the pedagogy, the human resilience.

From my very first meetings with Tikvah, she guided me on a journey through my own routine.

In addition to a calmed agenda, I learned from Tikvah how to develop a clear, simple, and effective structure for the design of the courses I teach. I now have more quality time to dedicate to other activities, such as research and individual student guidance. My anxiety has diminished, and the students also realized that my courses are well organized and rooted in strong guidelines.

And it works because, instead of another "method", what Tikvah delivers is individually tailored consultancy. She first listens, then she suggests new paths and possibilities for implementing our work differently, without losing what each individual cares about most."

Patricia Samora, full professor architecture and urbanism, PUC Campinas, Sao Paulo, Brazil
We are here especially for you as unique professional, to come alongside you and partner with you, as you work on a (climate / urban) curriculum, so that you can offer good and resilient education in all simplicity.