CLIENT PORTFOLIO
—
We work with clients including academia, consultancy firms for capacity development, government, think tanks, scale-ups, foundations, and (at times) civil society and non governmental organisations.
Are you curious for more? Would you like to get in touch? Feel free to contact our lead directly for any questions or inquiries you may have.
tikvah@studioblended.com
+31 6 42 47 29 69
Vegetation covering a buidling in Brussels. Photo: Tannya Pico (PhD candidate in Nature Based Solutions)
Our lead/founder, Tikvah Breimer (MSc MEd MSc) continuously works as independent senior level master thesis advisor.
Read more about it on our page about
supervising and mentoring students and professionals
.
The work is blended and remote in Europe. Amongst others for bureaus such as
Bijleshuis Belgium/Netherlands
.
"Collaborating with Tikvah as my thesis advisor and coach, was an exceptional experience. Her guidance and support were essential for shaping my entire thesis. She demonstrated a remarkable ability to be alert to my needs and feedback, which made the collaboration not only productive but also a true pleasure. Tikvah truly is an exceptional mentor and guide."
Master student in European and International Governance, Brussels September 2023
"In seeking advice on the Thesis question, I had developed over the prior few months, I was referred to Tikvah. At first impression, Tikvah was warm, open, and welcoming. I shared with Tikvah much of the information I had accumulated and compiled over time, and the narrative I had built around it. She comprehended the information and engaged me in questions and novel streams of thought. She provided me with a unique and valuable perspective that left me enlightened and re-directed. From the perspective of a Thesis student, I would recommend Tikvah as a supervisor, as she is present and engaging; analytical, proactive, and responsive; and dynamic, the kind of personality that would keep a student excited about their Thesis journey. "
Reem Traboulsi
, Lebanon, University Master Student
August 2022
Photo: Il circolo Instagram. "One of our old and resilient olive trees that makes you wonder what happened to it in the past."


For this
sustainable premium olive oil company
, we took up the challenge to innovate with
pedagogy
, in order to achieve a deeper and lasting impact. We based our approach on our leading notion, that
face to face time, has become absolute premium time
for education. And obviously, the beauty of this product: healthy green gold and trees that may even be around here, for over 1000 years.
Find out more, looking at our
events page
.
Here is what it was like, to be there:
"Thank you for seeing what happens when we talk about olive trees, and besides the talking, the hosting and experiencing of what they offer us."
Sarah Steendam (MSc)
, participant in the curated group for the tasting.
'The mere idea of participating in an olive oil tasting experience was innovative to me. Using our senses and observing, learning and experiencing olive oil methodically as a qualitative product with a story and with its own characteristics was eye opening and even a touching moment for me, that opened a different world. Through this type of face-face learning, involving head and body you get the opportunity to instill a deeper, meaningful experience.'
Sarah Steendam (MSc)
Find her thesis on
'When we talk about trees'.
'The oil testing experience revealed to me as quality time, almost an encounter with a quiet, distant, self-absorbed version of me. It felt like getting into a capsule and losing track of time, detaching from the constant stimuli of smartphones, unaware of the presence of others, oblivious to the need to be liked. Feeling the oil jar warm up in my palms, breathing senses from a remote but familiar land, images of lemon, and tomatoes, and lauryl formed in my mind, as if I were running in my bare foot across soft grass in a spring day.'
M. (MA)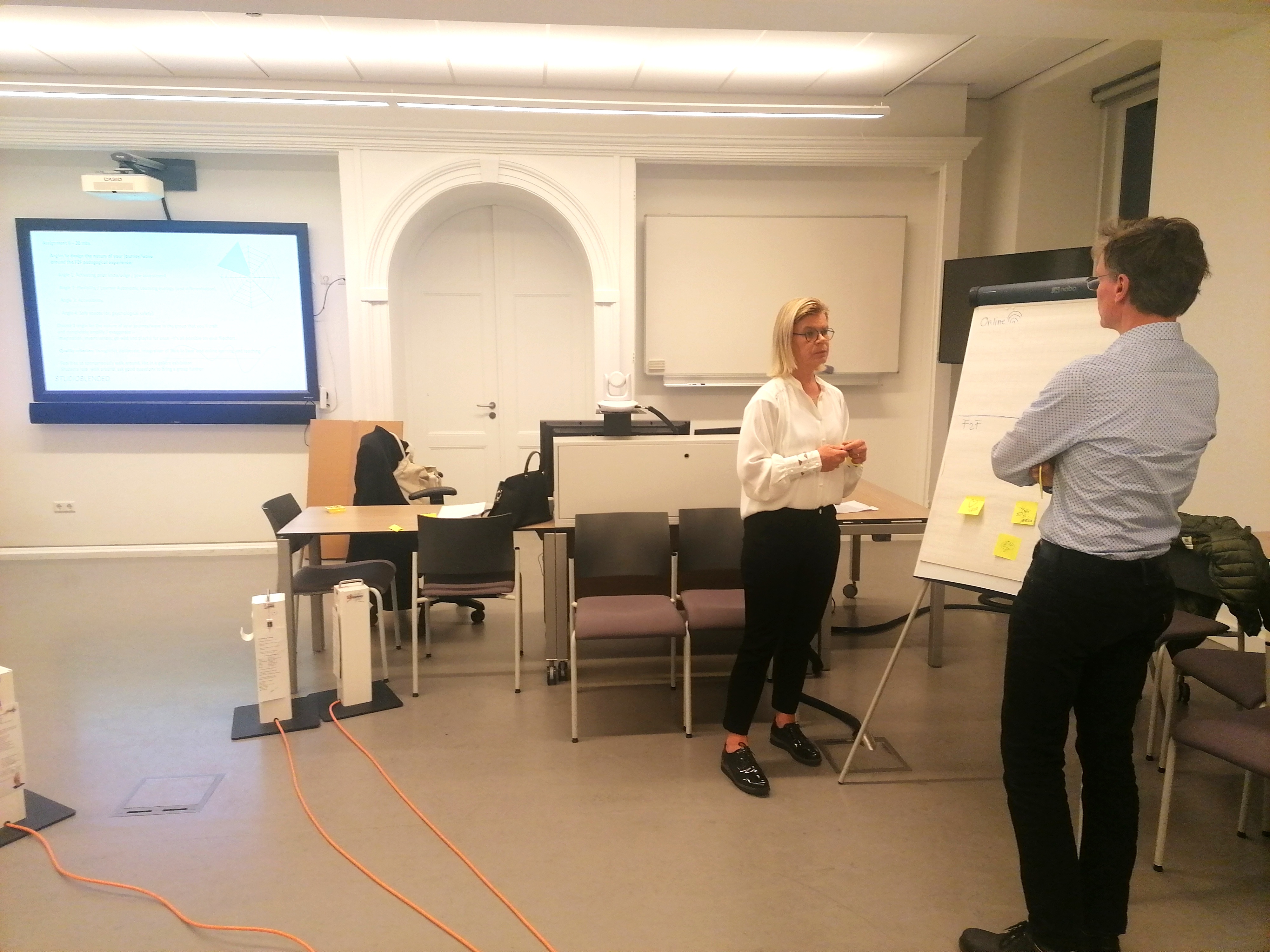 Photo with permission
A dean of an interdisciplinary faculty, sensed emotions such as fear and frustration amongst the teaching staff, with the need to go 'blended', as the world opens up. Particularly due to negative experiences with emergency education online. For this client, we proposed a 'blended experience' for the teaching staff, including a
podcast
and a playful face to face design session. The session takes a surprising angle, and centers on the absolute premium time that face to face has become - and from there, teachers are challenged to re-design the online learning journey, with the aim actually, of optimising the face to face time.
We collaborated with the existing teaching academy -
Educate-it
, so that our work is complementary and teachers know where to find experts within the institution who can invigorate their designs with technology. The follow-up on the blended experience is also in the deep listening, dialogues and exchanges that follow in the team.
'We wanted to explore the value of face to face and online teaching for the specific needs of honours education, e.g. safe spaces and off-the-script interaction. It was very inspiring to experience how Tikvah translated our questions and feedback into a lively workshop and a podcast with lasting value.'
Prof. dr. Stephanie Rosenkranz, Professor
Microeconomics, Dean
Utrecht University Honors College
.
Here is what a participant, one of the university teachers, wrote to us in our evaluation afterwards:
'I always felt 'blended' was like something superimposed on us with quite some pressure. But the workshop made me realise, that I was confusing 'hybrid' and 'blended', and i became aware of just how biased I had entered the workshop and I had many eye openers. I still wonder: isn't blended just a modern term, for what we ideally did anyway as teachers? Tell students to come prepared to class? I definatly hope to keep stimulating students to also read, not just watch videos.
The audio podcast [transcript] that we received prior to the workshop, as a flipping the classroom experience, caught my attention, I was fascinated by the content and it was new to me to listen instead of read. It had some nice twists that came unexpected to me.'

Are you curious to learn more about this specific workshop? Would you like to receive a bespoke quotation? Feel free to Email me directly, via:
tikvah@studioblended.com
ADVICE ON TRANSDISCIPLINARY CURRICULUM DESIGN


Vegetation recovery is so good that you cannot see the water underneath. Quito, Ecuador. Photo: Hans Bakker.
Tikvah did a pilot with the resilience course for university teachers, and taught it in a blended way to this PhD candidate. The assignment was to design her own transdisciplinary course, in line with her research where local indigenous communities must interact with the authorities on funding for climate adaptation.
"You [Tikvah] are able to learn/absorb the subject that I'm trying to produce, and you transform it to a methodological angle, and organise it is such a way that it directs me, and I can do things in a more effective and efficient way".

Tannya Pico, PhD candidate doing research into Nature Based Solutions (NBS) and transdisciplinarity, from Quito, Ecuador Institute for Housing and Urban Development Studies (IHS), Erasmus University, Rotterdam
For her most recent publication see TRIALOG 144 - ECUADOR - After Habitat III 2022-2023
Photo: Paris from a rooftop, at the end of
the multipyer event
, by Breimer 2022
Tikvah Breimer was invited to join, and took a train to Paris, to attend and observe the delivery of a longstanding
Urban Design Climate Workshop (UDCW)
for students. The workshop was part of the recently kicked-off Erasmus+
UCCRN_edu programme
- and its partners. A challenge faced by the professors who designed and delivered the decade strong workshop, was how to optimally use the new value and meaning of 'face to face' time, and gain clarity about the pedagogical essence of the interdisciplinary curriculum for this specific 1 week workshop. Tikvah gave a brief advisory session tackling 5 points of attention and follow up (spring 2022).
'I would have never expected that a 30min flipchart session could be so helpful in clarifying the core aspects of a blended model for multidisciplinary integration in higher education! The UCCRN_edu [Erasmus+] project will benefit a lot from such valuable advice.'
dr.
Mattia Leone
, architect and associate professor,
Department of Architecture (DiARC)
University of Naples Federico II
, Italy. Also co-director of the
Urban Climate Change Research Network - European Hub (UCCRN)
and Coordinator Erasmus+
UCCRN-EDU
project.
Photo: Rome, by Breimer 2018
A.R.S. Progetti S.P.A. (Rome, Italy)

StudioBlended was invited to join a consortium for a proposal to a large donor, with the explicit intention to bring the impact of innovation to the proposal in terms of 'blended' design for capacity development of technical staff in-country. StudioBlended formed an agile team around this proposal, gave senior advisory, aligned with the other consortium members and submitted a briefing and accompanying budget (autumn 2022).
'We approached you (StudioBlended) especially because next to that being a chance to bring some innovative approach to our proposal, I noticed that you have a background aligned with what is needed by the project: the project is focused on three main capacity building component to be implemented: on the job, through an on line/remote assistance, and through a number of "classic" modular courses to be implemented in person.
It is in particular for the secondo component that I was thinking to involve your studio and see how we can offer and design something different to be just available to answer questions on a social network.'


Head of Environmental and Infrastructure Engineering based at a consultancy firm in Rome,
A.R.S. Progetti S.P.A.,
Planning and Engineering Department, for a consortium proposal for the a large worldwide donor, concerning capacity development of technical staff in municipalities in Mozambique.
DiARC UNINA (FACULTY OF ARCHITECTURE IN LARGEST PUBLIC UNIVESRITY IN THE WORLD, NAPLES)
Photo: Naples from a rooftop, by Breimer 2012
Tikvah Breimer led a Participatory Action Research (PAR) during an
event in the largest citizen-consultation ever held in Europe, the Conference on the Future of Europe
. Our partner in the
South of Europe
, was the Faculty of Architecture of the largest Public University in the world, in Naples, Italy. A challenge faced was to truly resonate with the voice of the South of the South of Europe - remotely. Tikvah approached the process with liasion, listening and dialogue to arrive at the optimal approach for the event (winter 2022).
'Nothing was set in stone, and everything was discussed and organised together, sharing opinions on all aspects, from the way people were selected to the details of the event format. This made it possible to be involved in the process, to feel it as one's own, stimulating the best possible outcome.'
Enza Tersigni
(PhD) (Research Fellow, Coordinator of the teachers involved in the event)
University of Naples Federico II (UNINA)
Department of Architecture (DiARC)
Member
Urban Climate Change Research Network (UCCRN)
, Co-proponent Erasmus + UCCRN-EDU project
Photo: Medellin cable from the city to a national park, Breimer 2020
Still during lockdowns, this client embarked on an in-country capacity development training at a ministry of urbanism in DRC. The challenge was in reenvisioing the in-country training to become qualitatively blended, and ensure an optimal golden triangle of quality, time and cost investment. Tikvah Breimer gave advice
regarding the set-up of a first envisioned pilot (design phase) (spring, summer 2021).
'I had the opportunity to work with Tikvah in May 2021 when I was working for UN-Habitat as legal specialist. I was designing a capacity development programme on policy and legal drafting for the Ministry of Urban Planning and Housing of the Democratic Republic of Congo. Tikvah provided pro bono advice on how to develop a blended programme for the Ministry blending in-country sessions with on line and off-line activities. It was extremely useful and easy to work with her. Tikvah helped me appreciate the opportunities blended trainings can offer to overcome the difficulties of the COVID-19 pandemic and improve the impact of capacity building activities. She quickly understood the programme needs and challenges and proposed workable solutions.'
Projectlead
Gianluca Crispi,
Lead Legal Specialist,
UN-Habitat
Nairobi, Kenya.
RESILIENCE COURSE (REMOTE)
Photo: Brazilian Brutalism at FAU USP, a University Faculty that defined its own Architectural Style. Flickr user Fernando Stankuns.
During lockdowns, we piloted twice, our 'resilience' course - in a
bichronous
way. This Brazilian professor was challenged in the delivery of her academic courses remotely. First of all in her own human resilience, but also in the technical resilience of the curriculum design and a pedagogical lens to approach technology. Tikvah trained her in our second pilot with the resilience course for 10 weeks, remotely (studyload 4 hrs/week).
"I took the resilience course, and now deliver the actual course (summer in Europe, 2021).

Suddenly I sense I dare to improvise with the technical and pedagogical formats the resilience course trained me in. The capacity I developed to design a technically resilient course, now helps me so much to be focused on where I'm going with the teaching.

Students start to reach much higher levels already halfway the semester. They start thanking me, that the class was wonderful, it's so encouraging, even if everything is still on distance. When the parents are happy – the children are happy. It's the same with teachers!

I feel secure the material is solid and lasting, so I can build on it, incrementally. I dare to learn by doing, everything you (Tikvah) said is true – I'm calmer, more self-confident, and daring to experiment more. The structured approach the course brought, now brings me deep excitement to keep growing and learning myself too, not just students. It's so rewarding.

You are so right we don't need more heavy and extensive technology for excellent higher education, we need excellent technique and pedagogy, resilience. The course was a gift from heaven. I want you to train our entire team of professors!"

prof. dr. Patricia Samora
Senior lecturer and researcher
Pontificia Universidade Catholica de Campinas
Faculty of Architecture and Urbanism
Greater Sao Paulo Metropolitan Area
Brazil


We are here especially for you as unique professional, to come alongside you and partner with you, as you work on a (architecture / urban / climate) curriculum, so that you can offer effective and resilient education in all simplicity.