NATURE AND ASPIRATIONS
(for the delivery of your (climate) education)
—
Are you curious for more? Would you like to get in touch? Feel free to contact our lead directly for any questions or inquiries you may have.
tikvah@studioblended.com
Image: the
Online Learning Environment (OLE) model (TU/Delft)
redesigned by Lucas Rampazzo: Supportive, Interactive, Active, Contextual, Innovative, Flexible, Diverse, Inclusive. Possibly other dimensions are essential in your setting, the model is very adaptable.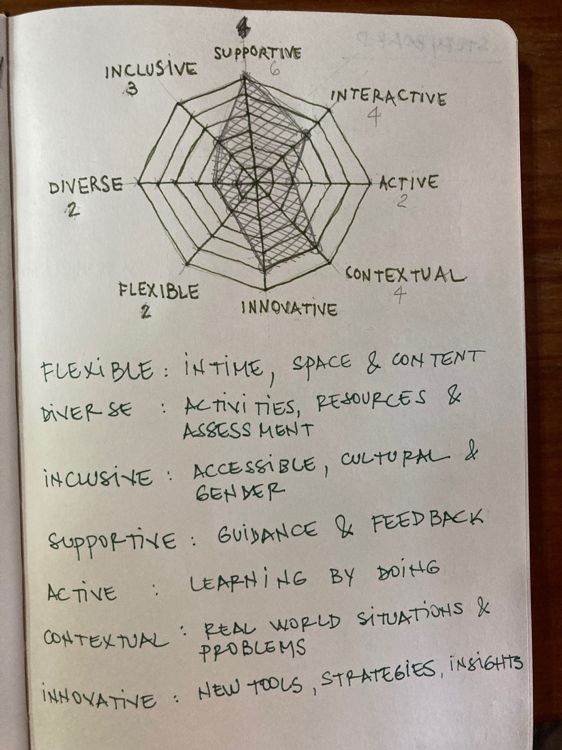 Photo: sketches by one of the professors we trained, in our resilience course, for her own course in urbanism in Sao Paolo during lockdowns. As conditions change, so can the OLE model. The
open building framework should be technically resilient enough
, to allow for such adaptation and bending, so that all are also humanly resilient and the teaching is effective.
Are you struggling with... ?
- ...?
-…?
-…?
Does it make sense?
Are you aware that:
- ...?
-...?
-... ?
Our advice and partnering with you
Curios? Feel free to contact our senior advisor and teacher trainer directly:
tikvah@studioblended.com
We are here especially for you as unique professional, to come alongside you and partner with you, as you work on a (climate / urban) curriculum, so that you can offer good and resilient education in all simplicity.