NATURE AND ASPIRATIONS
—
Are you curious for more? Would you like to get in touch? Feel free to contact our lead directly for any questions or inquiries you may have.
tikvah@studioblended.com
+31 6 42 47 29 69
Image: the
Online Learning Environment (OLE) model (TU/Delft)
redesigned by Lucas Rampazzo: Supportive, Interactive, Active, Contextual, Innovative, Flexible, Diverse, Inclusive. Possibly other dimensions are essential in your setting, the model is very adaptable.
Curriculum design is not at all only about content. There are many other aspects to think about - by design, related to the nature and aspirations for the course. Our Studio equips you to amplify both.
Honestly, we think you should be more daring. Not aspire for a little bit of that nature, and a little bit of this aspiration - which flattens out the impact. We invite you to go all the way, and make it truly obvious that your course or training or degree, is by
nature
above anything else:
- flexible
or:
- supportive
- inclusive
- active
- contextual
- innovative
- diverse
- experimental and innovative
- ...
You must establish the nature and aspirations of your course early on in the design phase. It will infuse your content design, and the development phase, and ultimately create memories that last in your learners.
Key projects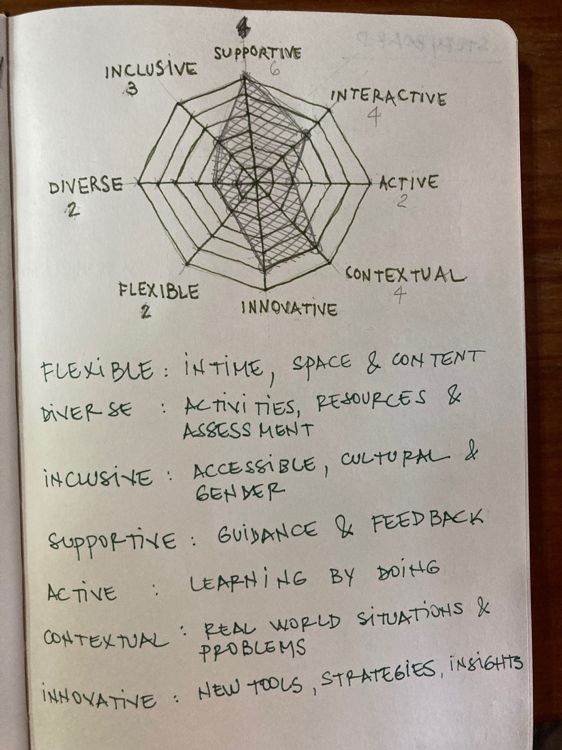 Photo: sketches by one of the professors we trained, in our resilience course, for her own course in urbanism in Sao Paolo during lockdowns. As conditions change, so can the OLE model. The
open building framework should be technically resilient enough
, to allow for such adaptation and bending, so that all are also humanly resilient and the teaching is effective.
Our Audio Podcast
Follows
Related publications

Follows
Curios? Feel free to contact our senior advisor and teacher trainer directly:
tikvah@studioblended.com
More design angles we use
Technical resilience
Human resilience
Modular
Evidence-based design
Financial health and resilience by (re)design
Innovative and deep pedagogy
Multi- Inter- and transdisciplinary
Blended
Bichronous
Greenfully designed (and technological simplicity)
Nature and aspirations
Flexibilisation and personalisation
Simplicity and decluttering
We are here especially for you as unique professional, to come alongside you and partner with you, as you work on a (architecture / urban / water / climate) curriculum, so that you can offer effective and resilient education in all simplicity.