Paper available open-source
here
The paper featured in a qualitative Dutch newspaper, NRC Handelsblad, under 'NRC Future Affairs'
on June 19, 2021
.
Autumn
event
at the Future of Europe Conference, have a look under '
organic trainings'
.
The lead author / StudioBlended lead is ambassador for the conference on behalf of Erasmus+ Generation, and organises the event.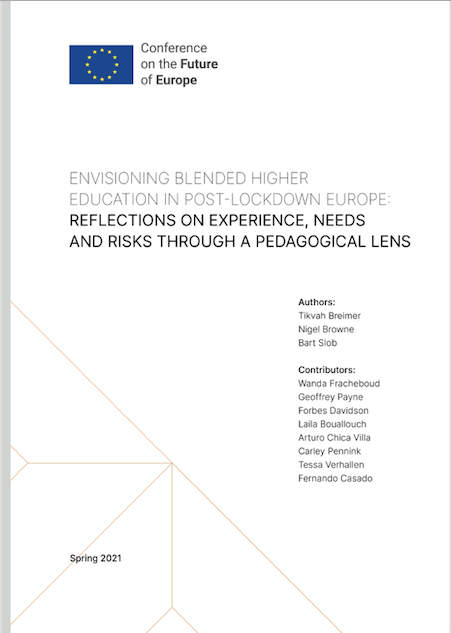 Abstract
—
In 2020 all over Europe remote education became the new normal when due to the Covid-19 pandemic many had to study and work from home. The new situation with an immediate switch to online learning was unprecedented.
It was a year of change – never before were so many learners and staff exposed to online learning and teaching. As the lockdowns begin to lift, we wonder: What will learning and teaching look like in higher education in post-lockdown Europe?
One thing seems certain: the future of higher education is blended – a well-thought out integration of online and face- to-face learning and teaching.
It will not happen overnight, and it may be an iterative or even messy and highly unequal process. In this paper we explore the optimal blend between online and face to face learning and teaching.
Starting at the course level, we consider the essentials of online learning and face-to-face teaching, and contrast and balance them to understand trade-offs.
We then explore and distil the implications for policy and decision-making.
We approach blended learning through a pedagogical lens. What is the optimum blend?
Educational quality and access to education are two recurring themes in our discussion.
The world has been turned upside down over the past year – it is going to take a long time before things normalize. It makes little sense to provide recommendations at this point in time.
Instead we flag several long-term risks, and formulate pertinent questions, to guide thinking and decision-making on the ways we may learn and teach in post-lockdown Europe.
With the objective to inform decision-making as blended learning rolls out incrementally in the coming months and years.
Keywords
—
Higher education, blended learning, teaching, pedagogics, quality education, access to education, hybrid, Europe, policy, economics, governance, wellbeing, inequality, digital divide, COVID-19, post lock-down, South of Europe